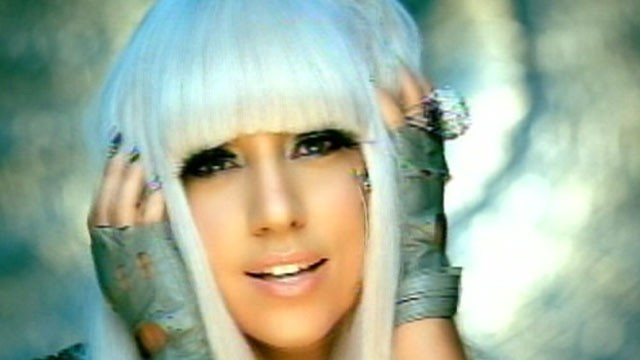 GAGA SNAPPING: LASHES OUT AT BRIT PAPER...
"What a completely ridiculous thing to even question me about. I will look you in your eyes and tell you that I am not dumb enough or moronic enough to think that you are dumb enough or moronic enough not to see that I would have stolen a melody. If you put the songs next to each other, side by side, the only similarities are the chord progression. It's the same one that's been in disco music for the last 50 years. Just because I'm the first [expletive] artist in 25 years to think of putting it on Top 40 radio, it doesn't mean I'm a plagiarist, it means that I'm [expletive] smart."

[Actually, it's not just the chord progression, it's the melody of the chorus. Here, this video that puts the songs next to each other, side by side, will help explain their striking similarities to you. Give this mashup a whirl, too.]
The criticism did seem to take the wind out of the song's sails.

"There's a lot of people who want to see me fail. The minute they see something to shoot at, they shoot, and the bigger I become the bigger target I am. Nobody in this room at any point looked around and said 'Oh my God, it's 'Express Yourself'. ' Not once. Listen. I swear to you. I can only be honest with you about it."

What will people say about 'Judas'?

"I dunno… I think they will really love it. (Starting to well up) I just don't want my fans… I don't know. This is exhausting. I just don't wanna perpetuate that shit. I'm sure you want to address it but it's just so ridiculous. I was just fucking shellshocked by it. It's so funny to hear you say, 'It must have been a homage', I'm like, NO. When I homage, I fucking homage with a big sign saying I've done it. Why would I not do that now? (Sighs) I just like… I just have to say… (Starts crying) I feel like honestly that God sent me those lyrics and that melody. When you feel a message to give to the world and people are shooting arrows at it… there's no way for something that pure to be wrong. (Reaches for Marilyn Monroe lighter) I need a cigarette.".

Apologizes for using word 'retarded'...
In the statement from the singer, released via celebrity blogger Perez Hilton's website Perezhilton.com, she said her use of the word was "furiously unintentional".

Her statement reads: "I consider it part of my life's work and music to push the boundaries of love and acceptance. My apologies for not speaking thoughtfully. To anyone that was hurt, please know that it was furiously unintentional."